All-Day Dining
At its best
All-Day Dining
At its best
The smoke-free, family-friendly Me-Ki-Noc Restaurant offers a mouthwatering menu, featuring delicious breakfasts, lunches and dinners all prepared by superb gourmet chefs. Along with its everyday menu, the Me-Ki-Noc also features daily and weekly dining specials.
Hours
Sunday, Monday, Tuesday & Wednesday 8am - 9pm
Thursday, Friday & Saturday 8am - 10pm
Kids Menu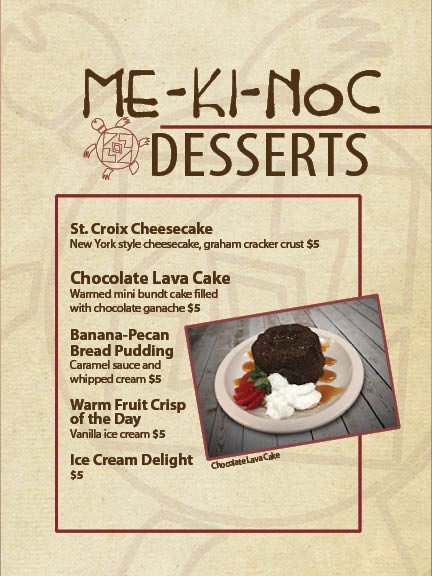 Play and Eat
Sunday – Wednesday
Earn 25 points to receive a free meal of your choice – the Sunday Winner Winner Chicken Dinner special, the Monday Steak and Lobster special, a Tuesday Buffet or the Wednesday All-You-Can-Eat Wings special. Swipe for your Play and Eat coupon. Coupon must be used during the week it's earned.
Winner Winner Chicken Dinner
Sunday
$10.99 or 25 points
Steak & Lobster
Monday
$12.99 or earn it for 25 points
T-Bone Tuesday
Tuesday
$22 or 25 points
Wing it Wednesday
Wednesday
$7.99 or 25 points
Prime Points
Thursday
$19.99 or 30 points
All-You-Can-Eat
Fish Fry
Friday
$8.99
Friday Food Frenzy
Fridays in January
Every Friday in January, earn $15 points and receive a coupon for $10 off any dining area.
Chef's Corner
Saturdays in January
The Chefs always have something special cooking at St. Croix Casino Turtle Lake.
Starting January 7, T-Bone Tuesday is back. Enjoy a 16 oz. T-bone steak complete with salad, choice of potato, vegetable du jour and dinner roll for $22 or earn 25 points and receive it free.