All-Day Dining
At its best
All-Day Dining
At its best
The smoke-free, family-friendly Me-Ki-Noc Restaurant offers a mouthwatering menu, featuring delicious breakfasts, lunches and dinners all prepared by superb gourmet chefs. Along with its everyday menu, the Me-Ki-Noc also features daily and weekly dining specials.
Hours
Sunday, Monday, Tuesday & Wednesday 8am - 9pm
Thursday, Friday & Saturday 8am - 10pm
Kids Menu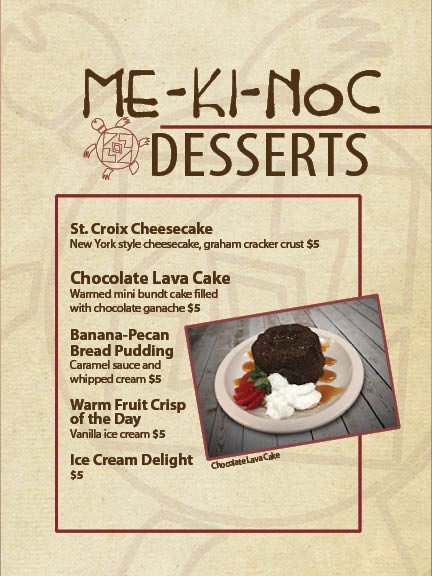 Mardi Gras Specials
February 24 - 29
The Jester's Dirty Pasta: $12.99
A combination of chicken, shrimp, and andouille sausage, in a creamy Cajun sauce over fettuccini pasta. Includes soup or salad and a bread stick.
Lent Special
February 26 - April 9
Crab Cake Sliders Basket: $8.99
Two crab sliders with French fries, coleslaw and a pickle spear.
12-oz. Sirloin Steak
Sunday
$17.99 or 25 points
Steak & Lobster
Monday
$12.99 or earn it for 25 points
T-Bone Tuesday
Tuesday
$22 or 25 points
Wing it
Wednesday
$7.99 or 25 points
Prime Points
Thursday
$19.99 or 30 points
All-You-Can-Eat
Fish Fry
Friday
$8.99
All-You-Can-Eat Walleye
Saturday
$19.99
Chef's Special
February 26 - April 2020
Our Chefs have done it again! They have specials sure to please all of our sweethearts. For those who are hungry for a taste of New Orleans and those who observe Lent, check out our special running from February 26 - April 2020.
10:30am - Close